Gold Gifts for Diwali?
Out of all the countries in the world where gold is traded (which is pretty much everywhere), India is undoubtedly the one that influences the gold spot price the most on the world market. The gold purchases for Indian weddings (to be given as a dowry and as wearable jewelry for the bride) alone contribute a great deal to the world's annual gold trade. Until recently, gold coins were not nearly as popular as a gift as gold jewelry though. That is slowly beginning to change now as the rising sales for the Indian Gold Coin can attest. Coins and other gold gifts were also on the wishing list of many Indians for the Diwali festival this year.
Unbeknownst to many, gold coins can also be worn as jewelry. The part that makes a gold coin wearable as a necklace is called a bezel pendant. Many gold dealers such as BGASC sell a selection of such products out of gold or silver.
It is important to make sure that your chosen bezel pendant has the exactly right dimensions for the type of gold or silver coin that you want to fit into it. When buying a bezel with a screw-top (in which the coin is fixed into the bezel by tightening a tiny screw), both sides of the coin will remain visible. Bezels are commonly available out of 14 karat gold (58.3% gold content) to match the color of the coin that you will wear with it.
Some of the more popular gold coins to be worn as jewelry in such a way are the Canadian Maple Leafs, the American Gold Eagles and Buffaloes, the Chinese Gold Pandas etc. Buy-Gold.Link's favorite gold coin to be worn as a good luck charm are the Mexican Gold Aztecas though. Whereas it's probably mostly women who wear gold coin necklaces, the images of the Aztec sun stone and cactus & eagle on the 20 Peso Mexican Azteca coins definitely appeal more to men.
Gold Gifts from Niue
One of the cheaper and perhaps a bit more unusual gold gifts you can buy were issued by the small Pacific island nation of Niue. Under the "Small Treasures" series that just started in 2017, five gold-coin-shaped wearable bracelets can be bought for less than 150$ each. The five different gold coin bracelets containing 1 gram of gold each depict symbols of good luck such as a goldfish, elephant and the zodiac signs for gemini, taurus and aries on the reverse side. A colored Swarovski crystal is also incorporated into the reverse design.
The obverse shows a portrait of Her Majesty Queen Elizabeth II in the center. The Niue legal tender value of 5 DOLLARS is also engraved on the obverse along with the 90% gold purity (Au 900), the year of mintage 2017 and the words NIUE and ELIZABETH II. A string is tied through two holes in the small coins (12 mm diameter), making the coins wearable as a bracelet. Mintage of each of the five currently available designs is limited to between 500 to 700 pieces. All five wearable gold coins were minted with a proof finish by the Mint of Poland. Each of these five unique gold gifts are packaged in a beautiful box with a certificate of authenticity.
In the hunt for gold gifts that are not just beautiful and valuable but also useful in a practical sense, I came across a Victorinox pocket knife that is inlaid with a 1 gram PAMP Suisse gold bar (99.99% gold purity). Victorinox is one of Switzerland's leading producers of Swiss-army-style knives. The knife comes equipped with a blade, scissors, nail file, nail cleaner, key ring and tweezers.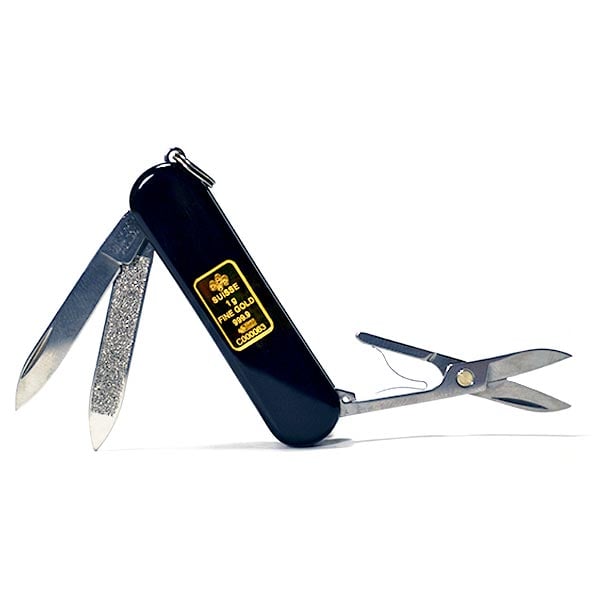 Victorinox Knife & PAMP Gold Inlay – 1 gram .9999 – $174.99
from: Money Metals Exchange
I guess that most of the gold gifts that Indians bought for the Diwali festival this year were offered to members of the fairer sex. However, if any of our Indian readers were looking for gold gifts to offer to their sons, male cousins, drivers . . . etc. this beautiful pocket knife would undoubtedly be a good choice. Buy the Victorinox Knife & PAMP Gold Inlay – 1 gram .9999 now while it is still available and you already have a great gift for the Diwali festival 2018 which will be on November 7th.
There are many more kinds of gold gifts available online. Almost every online gold dealer has a special section on his website for such gifts and more, so it's worthwhile to look around. It's quite likely that future articles on our blog will introduce such products once we find them.